---
If you are looking for the best in data logging capabilities for your racing application or if you just want to find out what your hot rod is doing, then you need to invest in a Daytona Twin Tec WEGO III system. These units can be added to just about any engine to gather important data for tuning and reference. If you make adjustment to your engine the Daytona Twin Tec WEGO III will record that data for you to retrieve and compare notes run after run.
The new Daytona Twin Tec WEGO III offer single and dual channel wide-band air/fuel ratio (AFT) tuning aids (Including units with built-in data logging). The Daytona Twin Tec WEGO III unit includes LCD display, data logging, 48" standard length harness, Bosch LSU 4.2 oxygen sensor, 18 x 1.5mm weld nut for exhaust pipe and software with CD-Rom.
The system is a versatile tuning aid and diagnostic Harley Performance part tool for all carbureted and fuel injected gasoline powered engines. The Daytona Twin Tec WEGO III unit displays AFR and can log over two hours of data including AFR, engine RPM, and it also has a spare 0-5 volt analog input for sensors such as throttle position or manifold pressure.
The ultra-bright daylight readable blue LED display on the Daytona Twin Tec WEGO III features automatic dimming under low light conditions and for convenience the compact size and wide supply voltage range can also allow operation from small rechargeable batteries in a broad range of applications.
The WEGO III from Daytona Twin Tec use low cost Bosch LSU 4.2 5 wire wide band oxygen sensors and by utilizing miniature surface mount electronics technology, digital signal processing techniques, and a switching power supply for the sensor heater, the WEGO III provides the same level of accuracy as a lab system costing thousands of dollars. So get your Daytona Twin Tec WEGO III system today from DC V-Twin, a major distributor for all Dayton Twin Tec products.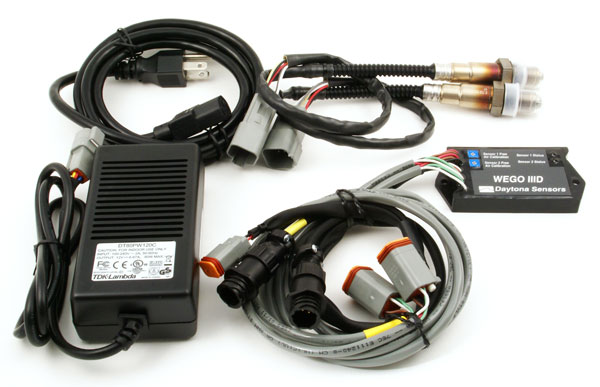 DC V-Twin also offers a full line of Daytona Twin Ignition products. If you have a carbureted bike and new a new ignition or coil, then look no further as Daytona Twin Tec can hit the mark for your application. No matter if you have a Twin Cam style engine, a Sportster or Evolution we can fix you up will all the parts you need. One of the first ignitions to be offered by Daytona Twin Tec is the Nose Cone Ignition. This is the most advanced ignition for older model bikes with several tuning ranges and RPM Limiters.
Model 1005 Internal (Nose Cone) Ignition with Versions for 1970-1999 Big-Twin®, 1971-2003 Sportster®, and 1999-2003 American IronHorse®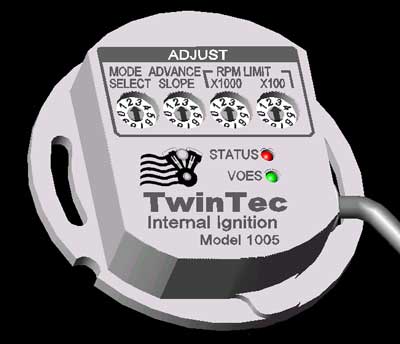 Another ignition from Daytona Twin Tec to be offered at DC V-Twin is the TC88 and TC88A. These are excellent choices for add adjustability to your bike. The TC88 is for 1999-2003 bikes with a dual 12 pin connector and the TC88A is for 2003-2006 bikes with a single 12 pin connector. Both ignitions from Daytona Twin Tec offer a wide range of tuning capabilities for dialing in your bike. You can change the timing curves and make advancements in ignition timing, plus you can also raise the RPM for bike which is restricted with the stock ignition for Harley. If you really want to fine tune the ignition timing of your bike, Daytona Twin Tec also has software to plug into your laptop and build a custom timing curve from scratch. While these are just a few of the great features on the Daytona Twin Tec products, give DC V-Twin a call today at 478-988-4313 and find out what other products will compliment your ignition system. We have the best prices and ship the same day in most cases. Call now for more information.